Knight Composites TLA 35 Road and Enduro MTB Wheels
Speed, Compliance and Durability + Options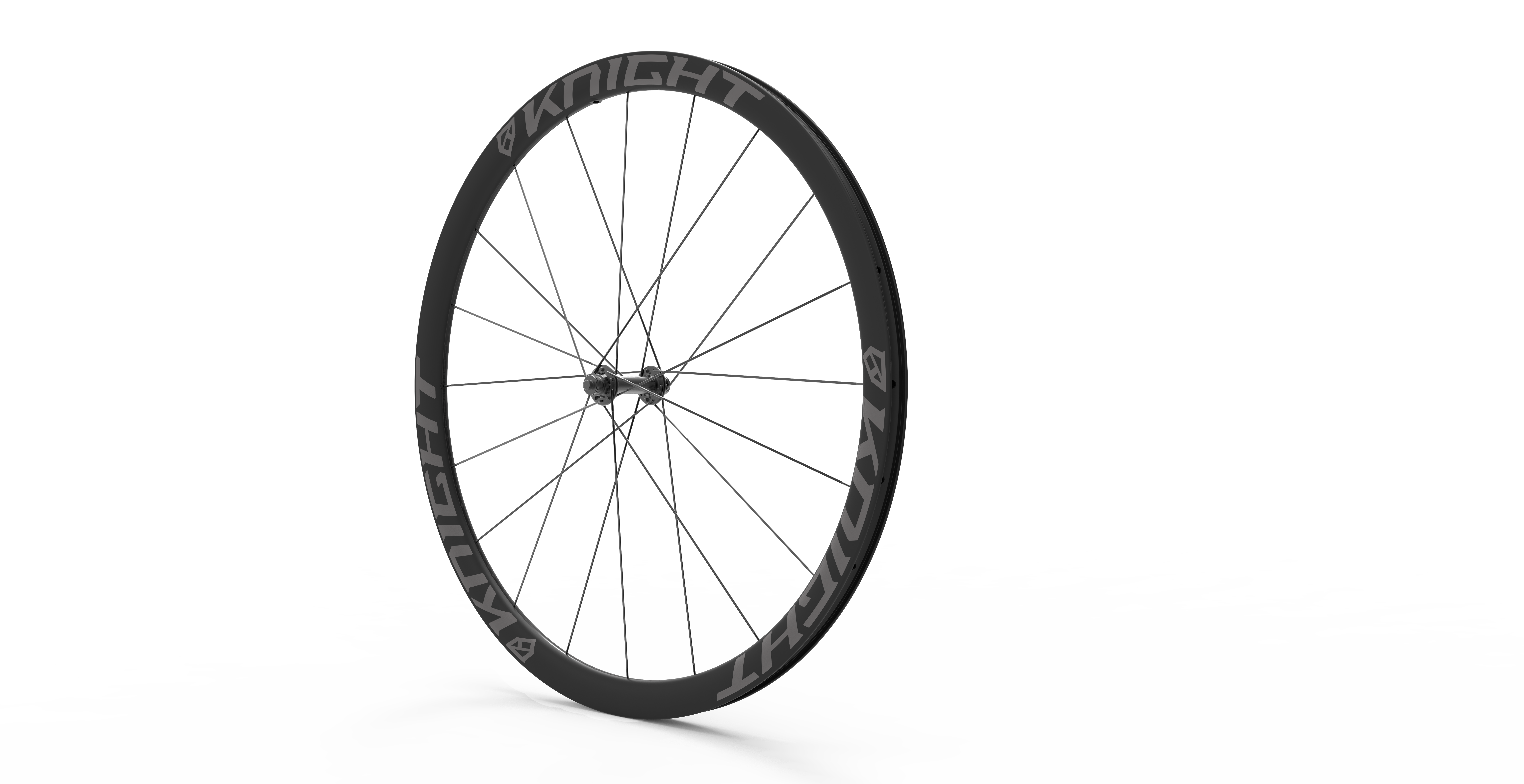 Speed- Knight engineers utilize several tools to ensure aerodynamic optimization. They address how the trailing edge affects air flow from the rim to the tire and onto the down tube and the rest of the frame. Knight rim shapes are engineered to move drag from the rim to behind the trailing edge, creating lift and freeing more usable watts. Knight has big results in the wind tunnel and on the road. Even at static 0° yaw, Knight has less drag.
Compliance -A compliant wheel is a smooth rolling wheel. And a smooth rolling wheel keeps you in the saddle longer, pushing your limits and taking you further than before.
Durability - A good wheel is only good if it can hold up to the abuse you throw at it. Knight wheels are built to handle all you can throw at them. Just like you, Knight riders ride across just about any terrain, in all conditions, on the same wheels. Race day or Wednesday, we don't want to think about our wheels. We just want to ride. The precision of EPS molding allows Knight to reduce "carbon drift" and "voids" associated with bladder-only molding, which cause weak spots. Knight's testing show 30% more impact resistance than the competition. Gram for gram, ride after ride, Knight wheels are stronger.
Ride compliance directly impacts your performance. Knight's EPS manufacturing process allows uniformity and compaction in the layup every time. They avoid having to overbuild the rim, which can cause a harsh, overly stiff ride. The result is a balanced, smooth rolling wheel with a more laterally stiff and vertically compliant ride, than you've ever had before.
Knight wheels are offered with multiple hub choices from DT Swiss, Chris King, Rotor and Project 321, as well as optional custom color graphics packages.
Featuring Trailing Edge Aerodynamic Manipulation technology and EPS manufacturing process, the Knight TLA system, developed in collaboration with Schwalbe and manufactured with a patent-pending internal rim profile removes the existing challenges of tubeless tire set-up, guaranteeing ease of tire installation with or without tire levers, and inflation with a hand or floor pump.
For added safety, the Knight TLA provides both a pneumatic and mechanical locking system, delivering an industry leading sealing surface with optimized aero profile in two initial depths.The new Knight TLA system wheels will be the first to feature Knight Composites all-new logo, designed to reflect the cutting-edge technology and proven team behind the Knight Composites brand. The Knight 35mm TLA is designed for people who love the challenge of hills and mountains – on tarmac or gravel and fast descents, as well as providing versatility and reliability for your everyday ride and race routine.
EPS Molded Carbon Fiber
35mm depth
19.5 internal / 27.5mm external rim widths
Rims 420g Wheels 1465g (DT 240 CL Disc)
Starting at $2299
Knight designed the Enduro wheels to the one wheel to handle your park, enduro and all-mountain adventures. Their EPS molding process creates a light, vertically compliant wheel resulting in 30% more impact resistance and even more lateral rigidity than the competition. The Knight 27.5 Enduro's 30mm wide spoke bed will easily handle a 2.5″ tire, it's stiff enough to hold the sketchiest line, and compliant enough to soak up the brake bumps left by those other guys. Looking for one wheel to rule the entire mountain? This is it.
EPS Molded Carbon Fiber
25mm Depth
30mm internal / 35mm external rim widths
Rims 433g (27.5) and 465g (29")
Wheels 1515g (27.5 DT 240) 1680g (29" Project 321 Hubs)
Starting at $2199